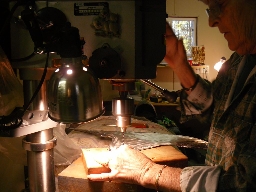 I am Wendy Gellert.
I strive for that creative edge that separates what I do from other mainstream art. I spend time free drawing and then review my scribbles to find the next piece as it emerges from my sketch book. I am drawn toward free form line and shape in my creations. I learned early in my professional studies that I should not get too attached to my first design and be ready to change as my art demands. Following this advice carefully, I am often faced with a design or engineering problem that I had not considered during my initial conceptualization. For me that is where the real "fun" begins! Considering my options and tapping my ability to problem solve, new ideas and sometimes new invention directs where a piece will go. My finished work may take a familiar shape found in our world as we know it or the piece can be a culmination purely of my own sense of design and aesthetics. Welcome to my mind's eye....
Please check back periodically to view my next inspiration! If you are interested in a piece shown in my gallery or would like to commission me to do a piece for you, just click the 'Email' tab and drop me a line.
About Wendy's Affiliations/Gallery Member
Member of Alamance Artisans
Hillsborough Arts Council
Durham Arts Council
Alamance Arts Council
Point of View Art Gallery, Burlington,NC
Saxapahaw Gallery, Saxapahaw, NC
Picasso Gift Shop, Graham, NC
Member of Orange County Arts Commission 2007-2010
About Past Shows/Exhibits
UWF Gallery, Pensacola, FL (Juried)
Artels Gallery, Pensacola, FL (Juried)
Center for Creative Learning, Greensborough, NC
Captain White House in Graham, NC.
Art on the Vine (Juried) Mebane, NC
May Memorial Library, Burlington, NC
River Landing Inn, Saxapahaw,NC (Solo)
Caswell Civic Center, Caswell County,NC
Churton Realty Gallery, Hillsborough,NC(Solo)
Orange County Passmore Center, Hillsborough,NC (Solo)
Silver Arts State Competition, Raleigh,NC 2011(2nd place/Sculpture)
The Point of View Gallery,Burlington,NC (Featured Artist)
Alamance Artisans Studio Tour, Alamance NC
Fine Art Carolina Gallery,Chapel Hill(Featured Artist),
Seymour Center, Chapel Hill
Carol Woods Community, Chapel Hill NC
UNC Friday Center for Continuing Education
Hillsborough Art Council Gallery,Hillsborough,NC (Solo)
Upcoming Shows/Exhibits
On Sabbatical until March